This time, I would like to summarize the Japanese real estate company "Mitsui Fudosan Co., Ltd." (hereinafter referred to as "Mitsui Fudosan"), which is expanding into Malaysia.
Mitsui Fudosan started with the "Real Estate Division" established in the then Mitsui Joint Name Company in 1914, and was established as a separate company in 1941.
History of overseas expansion
Mitsui Fudosan is engaged in business globally, mainly in Asia, in the United States and Europe.
In Asia, tha company established the joint venture "TID" with Singapore Hongleon Group in 1972, and in 2008 we opened "The St. Regis Hotel & Regis" in Singapore.
In Malaysia, the company started construction of a condominium business in 2014, and in 2015 we opened Mitsui Outlet Park, which is familiar in Japan, near Kuala Lumpur International Airport.
After that, Malaysia Mitsui Fudosan was established in 2017, and as of 2021, the development of "(tentative name) Mitsui Shopping Park LaLaport Kuala Lumpur" is in progress.
Let's take a look at each typical project.
For-sale housing "Geo Residence"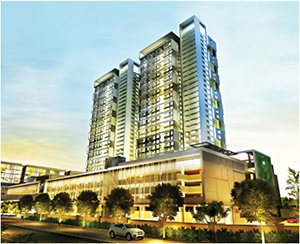 Mitsui Fudosan is participating in the 472 condominium business "Geo Residence" as a joint project with Sunway in the location of Petaling District, Malaysia (adjacent to Kuala Lumpur City, about 15 km from the center of Kuala Lumpur). I will. Sunway is one of Malaysia's largest developers.
This project is located in Sunway Resort City, a large-scale mixed-use development city that Sunway has been developing for about 30 years since 1986.
Five Star Hotel "Sunway Resort Hotel" Large-scale commercial facility "Sunway Pyramid" with more than 800 stores This is a complex city consisting of more than 7,000 residential and entertainment facilities, hospitals, offices and educational facilities.
Mitsui Outlet Park
MITSUI OUTLETPARK KLIA SEPANG opened on May 30, 2015 as Kuala Lumpur's first full-scale outlet mall on the premises of Kuala Lumpur International Airport.
While targeting families in their 20s and 30s in Malaysia, it is also one of Kuala Lumpur's main tourist attractions for many foreign tourists.
It seems that many Japanese are actually visiting.
LaLaport Kuala Lumpur
LaLaport, which is familiar in Japan. In Malaysia, it is scheduled to open in 2021 as the first LaLaport in Southeast Asia.
It will be the core facility of the large-scale mixed-use development "Bukit Bintang City Center Project (hereinafter, BBCC Project)" in central Kuala Lumpur.
Aiming to become "Kuala Lumpur Only One Mall for Food", we will actively attract first-time restaurants from Japanese and overseas.
This BBCC project is a large-scale mixed-use development with a total site area of ​​approximately 78,500 m2, consisting of commercial facilities, offices, residential hotels, etc. located in central Kuala Lumpur.
Summary
This time, I took a look at Mitsui Fudosan Abu-style foreign company.
The company is actively investing in Asia and also has a housing business in China, Malaysia, Singapore, Thailand and Indonesia.
I am very much looking forward to future developments!